October 11, 2019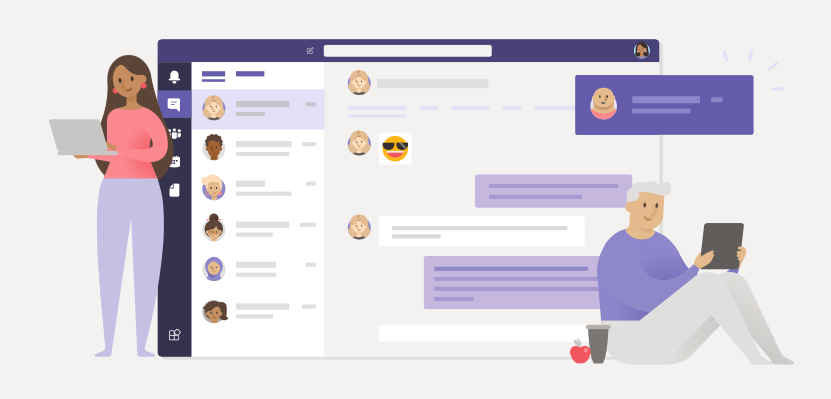 ITS is pleased to offer Weill Cornell Medicine access to Microsoft Teams, a new chat and collaboration tool. Part of Office 365, Microsoft Teams allows you to build virtual "Teams" to collaborate, share information, and connect with your peers and colleagues.
With Microsoft Teams, you can:
Connect instantly: Instant message one-to-one or with a group
Reduce email clutter: Turn cumbersome email threads into quick chats
Take conversations anywhere: Use Teams on your desktop, laptop, or mobile device
Share and collaborate on files: Use built-in apps like Word, Excel and PowerPoint
Boost group culture: Connect through GIFs, stickers, and likes
Watch this video by Microsoft for a quick introduction to Teams (54 seconds)
Learn more about Teams
Virtual Training: Hop into a virtual training session with one of our experts. Virtual training sessions will be conducted via Zoom. Register for a session today!  Dates and times below:
Thursday October 17th  11:00 a.m. - 12:00 p.m.
Wednesday October 23rd  1:00 p.m. – 2:00 p.m.
Friday November 1st 10:00 a.m. – 11:00 a.m.
Tuesday November 5th 2:00 p.m. – 3:00 p.m.
Tech Tuesday: Swing by the Samuel J. Wood Library at Noon on October 29th for a 30-minute live Teams demo. Here is the full October Tech Tuesday schedule.
How do I use Teams?
Take a look at these guides to get started using Microsoft Teams at WCM.
Teams FAQs
Can I use Teams to chat with anyone at WCM?
Yes, if your contact has an @med.cornell.edu email address, they will be available on Teams. Please note that this does not include WCM-Qatar or Cornell Ithaca.
Can I use Teams to chat with people outside WCM, like NYP staff?
Outside users from certain peer institutions (like NYP, MSK, and the Ithaca campus) can be added as guests to Teams by submitting a request. Guests have limited access to Teams functions, which is detailed in this Microsoft guide. We are exploring solutions to cross-connect our chat systems with the NYP one and will have more information in the future.
Can I share high-risk data (like HIPAA-protected patient data) through Teams?
Yes! For most regular use cases, especially with other WCM faculty/staff/students, Teams can be used for collaboration on high-risk data.
We use Skype for Business all the time. Is it going away?
Yes, Skype for Business will be phased out in Spring 2020. We recommend you move to Teams soon to simplify your transition in the Spring.
Is Teams replacing Zoom?
There are currently no plans to replace Zoom. We still recommend that you use Zoom for pre-scheduled meetings, especially with attendees who are outside of WCM. Teams has collaboration features that let you quickly turn a one-off chat into a screenshare or video call.