You are here
Also known as
Also known as:
SAP
WBG
Purchasing
Financials
Human Capital Management
Weill Business Gateway services as the primary administrative system for all Weill Cornell Medical College units. WBG houses three primary modules, with multiple functions within each.
Financials
Researchers, administrators, and staff can manage the financial information for their unit through multiple financial modules in WBG. Funds and Grant Management allows review of the status and balance of individual accounts, review of transactions, and execution of a variety of reports to make strategic business decisions. Auxilliary Billing allows for internal chargebacks for services, while the Space Inventory module allows review of space utilization to assist with grant reporting.
Purchasing
The Supplier Relationship Management (SRM) module of SAP allows users to manage procurement workflow for their departments. Users can create, manage, and approve shopping carts. Also available within WBG Purchasing, SciQuest (our collaborative supplier management system) houses a selection of vendors who work directly with WCMC, often offering special Cornell pricing and discounts.
Human Capital Management
The core Human Resources/Payroll administrative tasks are handled through the HCM module. The processes currently covered include position management, employment processing, changes to employment, time entry and approval, benefits administration, payroll processing, payroll posting, and HR/Payroll reporting.
Frequently Asked Questions
Q:
Why can't I log into myApps on my Mac?
A: If you have Safari 9 or higher, you may experience accessing myApps (myapps.weill.cornell.edu) to open certain applications, like WBG and Epic Hyperspace. If you are on a Mac and are using Safari 9, you can follow these recommendations:
Make sure you have Citrix downloaded
If you have never used myApps before, it is likely you have not yet downloaded the Citrix client, which allows you to access online applications. Scroll to the bottom of the myApps page and click the links provided to download Citrix to your device.
Clear your cookies
If you already have Citrix downloaded and still cannot access myApps, it's possible the cookies in your browser are creating an issue. Please follow these steps to correct the problem:
1. In Safari, go to your toolbar at the top of your screen and click Safari > Preferences.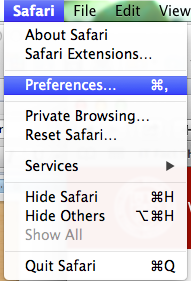 2. In the pop-up window that appears, click the Privacy tab and click the Details button.
3. In the next screen that appears, search for the word "cornell" in the top-right search bar and click the cornell.edu cookie that appears. Click the Remove button at the bottom of the screen.
Training