Weill Business Gateway serves as the primary administrative system for all Weill Cornell Medical College units. WBG houses three primary modules, with multiple functions within each.
Financials
Researchers, administrators, and staff can manage the financial information for their unit through multiple financial modules in WBG. Funds and Grant Management allows review of the status and balance of individual accounts, review of transactions, and execution of a variety of reports to make strategic business decisions. Auxiliary Billing allows for internal chargebacks for services, while the Space Inventory module allows review of space utilization to assist with grant reporting.
Purchasing
The Supplier Relationship Management (SRM) module of SAP allows users to manage procurement workflow for their departments. Users can create, manage, and approve shopping carts. Also available within WBG Purchasing, SciQuest (our collaborative supplier management system) houses a selection of vendors who work directly with WCMC, often offering special Cornell pricing and discounts.
Human Capital Management
The core Human Resources/Payroll administrative tasks are handled through the HCM module. The processes currently covered include position management, employment processing, changes to employment, time entry and approval, benefits administration, payroll processing, payroll posting, and HR/Payroll reporting.
Service Requirements
Training is mandatory before access to any WBG modules will be granted. Access to WBG is managed via the WBG Governance, Regulatory, and Compliance Process. More on this process can be found under "Use this Service."
Frequently Asked Questions
Why can't I see the My Workspace tab when I log into the Weill Business Gateway?
By default, the My Workspace tab is the third tab you should see when you log into the Weill Business Gateway (WBG). However, if you had previously customized your tab order, My Workspace will appear at the very end of your tabs. Depending on how many tabs you have access to, My Workspace could be pushed off the screen. You can reset your tabs or move the My Workspace tab to your preferred location to see it.
To reset your tab order, click the Personalize link above all of your tabs, and select Reset Order of Tabs:
To move your tabs around, hover your cursor over the top-left corner of any tab until a shaded triangle appears, and then click and drag it to the location you prefer.
Why do I see a pop-up blocker error message when I click on a tile in My Workspace?
You may receive the following error if you are in the Weill Business Gateway (WBG) while using Internet Explorer 11: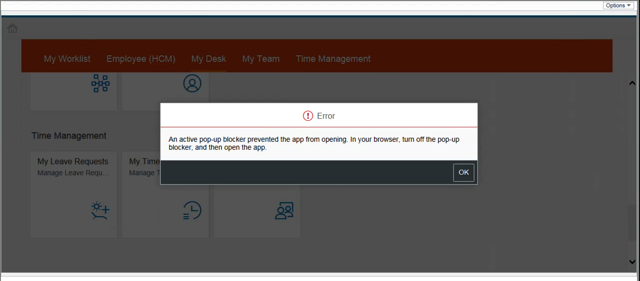 This may appear if you click on the following tiles: Learning, Careers, My Dashboard, Recruitment, or Admin Center. To avoid this issue, please sign into WBG via myApps by going to myapps.weill.cornell.edu, signing in with your CWID and password, clicking the WBG icon, and then launching the My Workspace tab.
Is this email from Wells Fargo legitimate?
Probably!
You receive email notifcations from Wells Fargo when you submit a Payment Requisition or Travel & Expense eForm in WBG, and choose to have your payment issued via direct deposit. These emails may have the EXTERNAL tag on them, but they are not spam.
What do you need to know about Wells Fargo notifications?
Wells Fargo sends emails using Zix encrypted email messaging. You register for the Zix service once. Once registered, you will sign-on by entering your password.
Emails are sent from PaymentRemittanceInformation@wellsfargo.com 
The subject line will be "Payment details from <<the name of the company paying you>> sent by Wells Fargo." 
These emails may have the EXTERNAL tag on them, but they are not spam.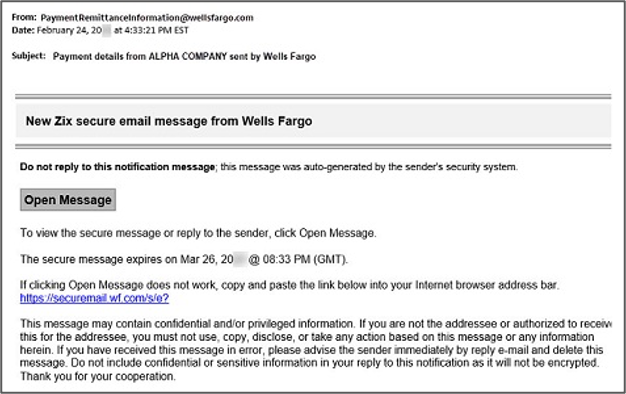 What do you need to do if you receive an email from Wells Fargo?
The first time you receive a Zix secure email from Wells Fargo, you will be asked to register and create a password for sign-on.

The username for your account is your email address. 
If you have multiple email addresses, you will need to choose the address to which the notification was sent.
After successfully signing on, you will be able to read the message, then open and save attachments.
Wells Fargo will send an email for each remittance payment.

Each email will list its specific 30-day expiration date.  
Please reach out to the company paying you if you need the remittance resent after it has expired.
Questions?
Contact the Electronic Commerce Services (ECS) Delivery Team at 1-800-851-8311, option 4, Monday through Friday, 7:00 a.m. to 10:30 p.m. Eastern Time. 
Training