ITS provides digital storage options for data files, documents, images, video and audio files, and databases available to you for your WCM research, education, and administration work related activities. Storage can be provided as stand-alone, replicated and with or without tape backup. Our goal is to provide a sustainable and scalable storage solution that meets the price and feature functionality requirements of the WCM community.
Unsure if file sharing meets your storage needs? Use our Storage Wizard to help you find the most suitable option.
What's Included
Stand-alone file storage
Access via CIFS or NFS
Optional features available for additional fee
Data Protection service that includes the following:

Meets HIPAA compliance requirements
Nightly replication of data to a remote data center
On-site 3-day snapshot retention
Off-site 30-day snapshot retention, and monthly point-in-time snapshot for 1 year
For Legacy Servers: Remote Mirror is a deprecated service option for existing file shares that offers the previous night's copy of your data at a remote data center.
Cost and Fees
Current pricing for this service is available on our Rates page under the "Data Storage" category.
Frequently Asked Questions
How do I request access to a department file share
To request access to a file share, authorized users can simply log onto myHelpdesk.med.cornell.edu, and click "Submit a Request." Your request goes straight to the appropriate ITS group for fulfillment.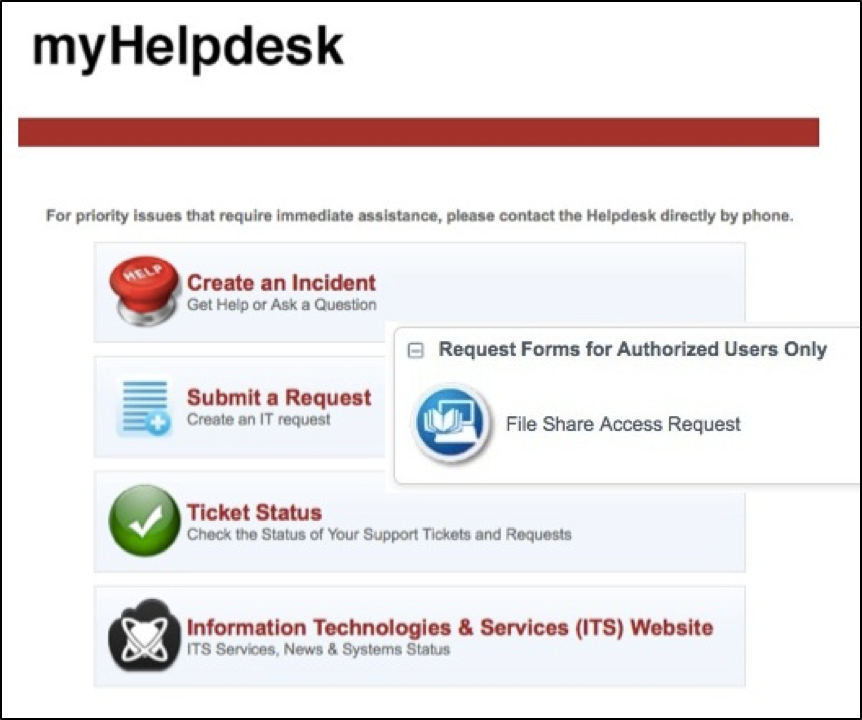 *Please note: Only owners and administrators of a file share are authorized to submit a Request through myHelpdesk. If you need access to a file share, get in touch with your Department Administrator to verify who can submit a Request on your behalf.
How do we learn how to fill out a File Share Access Request? 
If you need additional support please contact ITS Training at its-training@med.cornell.edu.
What service can I use to store PHI?
Departmental file shares, OneDrive, and SharePoint are appropriate for storing PHI.
How can I map my departmental file share to my computer?