ITS is currently in the process of moving the institution's time keeping methods into an automated format. Most departments still manage their employees' hours and leave with paper timesheets that are then reported by a designated department timekeeper in the Weill Business Gateway (WBG). Once an employee's time sheet is approved, the employee is issued a paycheck. Training for timekeepers and time approvers is conducted by the ITS Training team on a regular basis.
Other select departments are using an online time management system called eTime. This new system allows non-exempt and temporary employees to clock in and out daily with a web clock, while exempt employees can enter absence hours. All eTime users can request leave to be approved by their managers and updated to their timecard. Additionally, supervisors can approve their employees' time, monitor group working schedules, and run reports.  ITS offers training to employees in these select departments on how to use eTime.
Service Requirements
eTime is accessed through myApps, which requires you to download Citrix to your computer. Visit the myApps website and scroll to the bottom of the page to download Citrix if you have not used myApps before. 
Frequently Asked Questions
Why can't I see the My Workspace tab when I log into the Weill Business Gateway?
By default, the My Workspace tab is the third tab you should see when you log into the Weill Business Gateway (WBG). However, if you had previously customized your tab order, My Workspace will appear at the very end of your tabs. Depending on how many tabs you have access to, My Workspace could be pushed off the screen. You can reset your tabs or move the My Workspace tab to your preferred location to see it.
To reset your tab order, click the Personalize link above all of your tabs, and select Reset Order of Tabs:
To move your tabs around, hover your cursor over the top-left corner of any tab until a shaded triangle appears, and then click and drag it to the location you prefer.
Why do I see a pop-up blocker error message when I click on a tile in My Workspace?
You may receive the following error if you are in the Weill Business Gateway (WBG) while using Internet Explorer 11: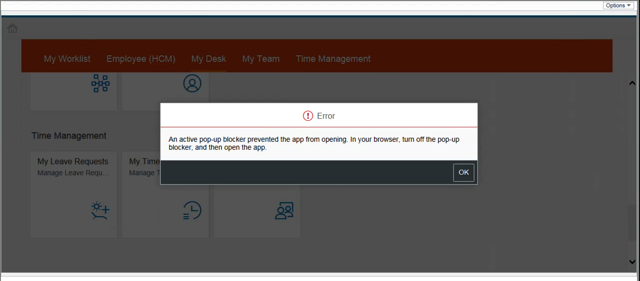 This may appear if you click on the following tiles: Learning, Careers, My Dashboard, Recruitment, or Admin Center. To avoid this issue, please sign into WBG via myApps by going to myapps.weill.cornell.edu, signing in with your CWID and password, clicking the WBG icon, and then launching the My Workspace tab.
Training
Guides