June 22, 2018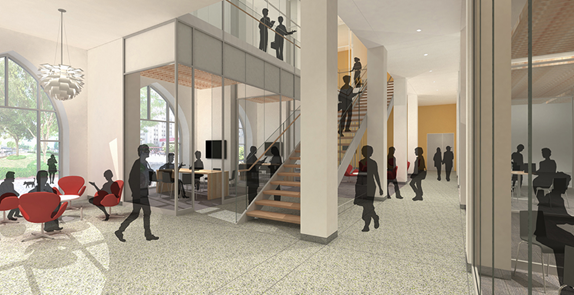 Starting July 2, the Wood Library may not be the quietest place to work as the next phase of the Feil Family Student Center renovation is set to begin. The 16,200-square-foot Feil Family Student Center, housed in renovated space on the first and second floors of the main campus buildings on York Avenue, will offer a place for classrooms, meetings, quiet study and informal gatherings to bring students together in the heart of the institution.  Construction will commence on a new block of study rooms in what is now a corridor facing the front of the hospital. This will lead to additional education space on the second floor via a new set of stairs. Construction affecting the library will begin in July 2018 and continue through the end of May 2019.
How will this affect you?
The following areas of the library will be affected: 
24/7 Study Area closed beginning July 2: Anticipated reopening is scheduled for mid-September. To accommodate students and residents who have 24-hour library access, the library will be accessible via the front door. The library will be staffed by a security guard during these hours; IDs will be required to enter through the gates. **No additional services will be available during this time.
Sunken Reading Room construction begins in August: Ceiling work will be done in the Sunken Reading Room beginning the end of August. During that time, access to this space will be limited.  Late September, the Sunken Reading Room and the 24/7 area will reopen for normal use and work will continue outside the library, in the corridors, and on both the first and second floors.
Library Hours with full services
Monday – Thursday 8am – 12m
Friday – 8am – 8pm
Saturday – 10am – 8pm
Sunday – 12n – 12m
**Library Hours with no service
Monday – Thursday 12m - 8am
Friday – 8pm – 10am
Saturday – 8pm – 12n
Sunday – 12m – 8am
Questions? Feedback? 
If you have any questions about the construction, please contact the Information Desk at infodesk@med.cornell.edu.