Our Learning Management System (LMS) can be accessed through the following steps:
Visit myapps.weill.cornell.edu and log in with your CWID and password.
Click the Weill Business Gateway icon. You may be prompted to input your CWID and password again.
Click the Learning Tile.
The Learning Management Homepage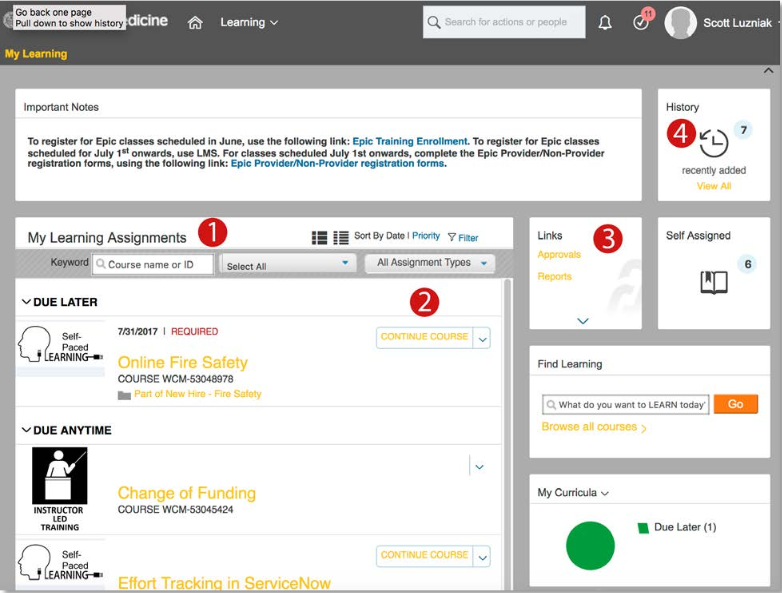 1. My Learning Assignments: The My Learning Assignments tile displays your assigned learning activities. You can view your assignments and related details, launch training, and register for offerings.
2. My Learning Assignment Actions: Every learning activity is listed with an action button and status update. You can show/ hide information, view the course start date and location for enrollment. These actions may include:
Request Approval: Initiate an approval request via an automated workflow.
Request Schedule: Request information on the availability and course schedule from the course owner.
Start Course: Launch a course.
Continue Course: Re-launch a course you have started.
Register Now: Register for a course assigned to you.
Remove Course: Remove a course that you have assigned to yourself.
3. Links: Links to other learning and system features.
4. Learning History: Searches for learning activities in the available catalog. Enter keywords in the text box to perform a quick search for related items in the catalog. Click Browse All Courses to navigate to the Learning Catalog.