June 28, 2018
On June 12, Dean Choi announced the re-launch of weill.cornell.edu, rebuilt from the ground up to showcase everything that Weill Cornell Medicine does.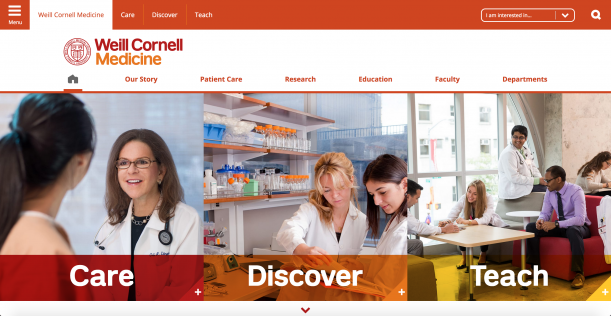 This launch replaced the "front door" to Weill Cornell Medicine that had been in place since January of 2010. Working with stakeholders from around the institution and using a new agile approach to site development, the ITS Web Communications division was able to completed this project in just 13 months.
More than just a traditional redesign, this was a complete rethinking of one of our flagship websites. Major changes to the site include:
A New Purpose: The site now helps explain the breadth and depth of Weill Cornell Medicine – everything we do and why we do it – to the outside world for the institutional vantage point.
Modern Architecture: The site is powered by the same technology platform as other WCM websites, enabling rapid changes to help meet institutional needs.
Modern Design: The site is vibrant, more interactive, and features a new navigation model. It's also optimized for use on mobile devices.
Brand Expression: The site allows the Weill Cornell Medicine brand to live, putting more context around our missions and how they connect to each other around our chosen priorities.
Better Storytelling: Throughout the site, we've implemented new ways to tell the story of Weill Cornell Medicine to help build our institutional reputation.
Better Integration: Information from the WCM News Room, the Events Calendar, the Online Directory, and the patient care-focused weillcornell.org have been leveraged throughout the site to help keep the site current without making it redundant.
Accessibility: The new site meets new university standards regarding access to information resources for persons with disabilities.